CALHOUN COUNTY – IMMACULATE HOME
– 92 ACRES-
TUESDAY SEPTEMBER 6TH 6:00p.m.
FARM LOCATION: 8220 R Drive South Union City, Mi 49094
DIRECTION: 3 Miles North of Union City on 8 Mile Road to R Drive South then East 1/2 Mile to Farm.
(Section 21 Burlington Township)
Offering This Well kept home, Barn and 92 Acres in 4 Tracts
Tract #1- Home, Garage, 40×60 Pole Construction Shop with Insulation, Water & Electric Situated on 2.75 Acres M/L
Tract #2 – 37.6 Acres M/L with 24 Acres Tillable
Tract #3 – 38.6 Acres M/L w/18 Acres Tillable
Tract #4 – 13.1 Acres Virtually All Wooded with Approx. 2  1/2 Acres of Open Area
**OPEN HO– USE DATES:  SUNDAYS AUGUST 21ST & AUGUST 28TH From 3 to 5pm or by appointment with Auctioneers
MAP, TERMS & CONDITIONS  MAY BE FOUND ON OUR WEBSITE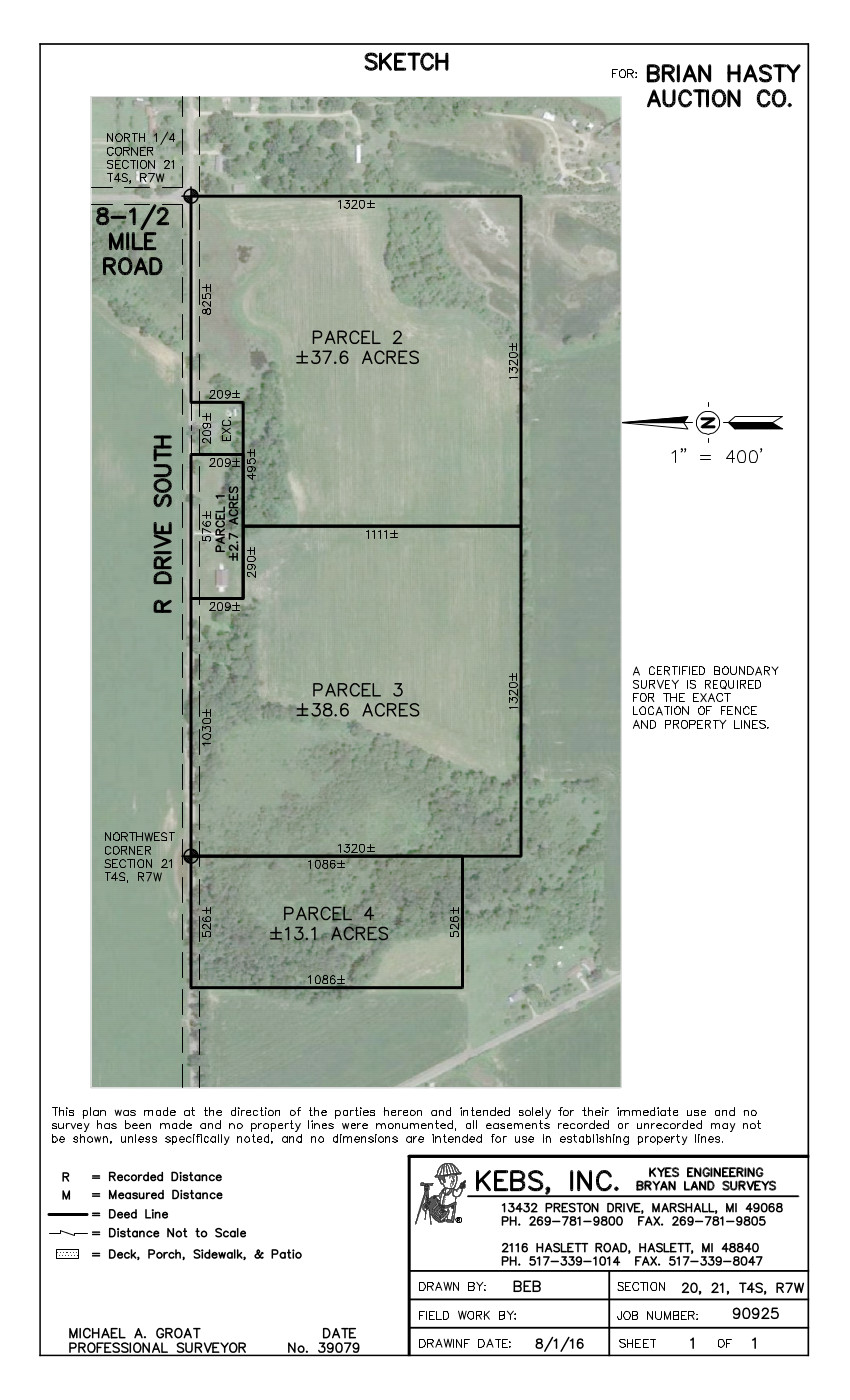 MIKE & SHARLYNN WINTER
OWNERS
AERIAL MAP TO FOLLOW
WINTER LAND AUCTION
AUCTION TERMS & CONDITIONS
REAL ESTATE SELLS SUBJECT TO SELLER CONFIRMATION: There will be open bidding on all tracts and combinations during the auction as determined by the determined by the auctioneer. The property will be sold in the manner resulting in the highest total sale price.
DOWN PAYMENTS: An Ernest Deposit in the amount of $5,000.00 down on each and every Tract, deposits may be in the form of a check, money order, cashier's check or cash. Ernest deposit will be due at the close of the Auction.
YOUR BIDDING AND BUYING: is not contingent on your financing, so have your financing pre-arranged. Deposit is non-refundable and will be forfeited if buyer does not perform.
ACCEPTANCE OF BID PRICES: All successful Bidders will be required to enter into purchase agreements at the close of the Auction.
BUYER PREMIUM: A 10% Buyer Premium will be added to the High Bid Price to calculate the final purchase price of all Tracts. Please take this into consideration when bidding.
DEED & TITLE INSURANCE:  Seller will provide Title Insurance and Warranty Deed containing the following language. This property may be located within the vicinity of Farm Land or a Farm operation, generally accepted Agriculture and Management practices which may generate noise, dust, odors and other associated conditions may be used and are protected by the Michigan right to Farm Act.
SURVEYS:  A survey will be required for any tract where there is no existing legal description or where new boundaries are created by Tract Division in this Auction. Seller shall pay the cost of survey. Keb's, Inc. will be the Surveyors used in this transaction.
LEGAL DESCRIPTION & ABSENCE OF WARRANTIES: Dimensions, boundaries & acreage are all approximate and are an estimation based on current legal descriptions. Aerial photos,  etc. Any maps used in this brochure to show boundaries are not guarantee of exact property lines. All maps in the brochure are a guideline to assist the prospective purchaser in locating the Tract being offered. Each tract is being sold by the gross dollar (Not by the Acre) no adjustments will be made in the purchase price if an actual survey reveals acreage different than estimated in any printed matter concerning this Auction. All Tracts sell as-is where-is with no warranties expressed or implied as to the merchantability, usability fitness for a particular purpose, or any matter of what so ever type or nature, by the seller and/or Brian Hasty Auction Company and Steve Burns,  Auctioneer.
ANNOUNCEMENTS MADE SALE DAY: will take precedence over any printed matter and/or verbal statements. Information used in this brochure and other printed matter pertaining to this Auction has been obtained from sources deemed reliable, but the seller and/or Brian Hasty Auction Company and Burns, Auctioneers no guarantees as to its accuracy. Conduct of the Auction and Bid increments are at the direction and discretion of the Auctioneer.
AGENCY: BRIAN HASTY AUCTION COMPANY AND OR BURNS AUCTIONEERS and its representatives are exclusive agents of the seller.
TAXES: Real Estate Taxes will be pro-rated to closure.
BURLINGTON TOWNSHIP:  is a Zoned Township. Buyers shall rely entirely on their own inspections, information, judgment and investigation of the property and its records.
NOTE: Tillable Land is currently leased, through and including crop year 2018, purchasers must purchase with the knowledge that they will purchase, and assume existing land rent contract dually noted on purchase contract. Continuation and or new land rent contract with purchasers shall be executed at closing. Future land rent payments will go to purchasers.
MINERAL RIGHTS: Seller to convey 100% of oil and mineral rights owned by seller.
CLOSING:  The balance of purchase price is due at closing which will take place approximately on or before 45 days after Auction sale date or soon thereafter as applicable closing documents are completed.
POSSESSION: Possession shall be 30 days after closing date.
DATE & TIME

TUESDAY SEPTEMBER 6TH 6:00p.m.

AUCTIONEERS

Brian Hasty & Steve Burns

LOCATION

8220 R Drive South Union City, Mi 49094