AUCTION
DAVID AND CECELIA EVANS
OF LITCHFIELD, MICHIGAN
***EXTENSIVE MICHIGAN MILK BOTTLE SALE***
Saturday December 7th – 9:30 A.M.
Sunday December 8th 11:00 A.M.
700 "MICHIGAN ONLY" Milk Bottles Will Be Sold Over 2 Days
Live Auction with On Line Bidding Available
Auction held at the Fraternal Order of Eagles
331 Butters Ave. Coldwater, Mi. 49036
The Bottles sold in this first auction represent Dairy's in Michigan's Lower Tier's of County's including Berrien, Cass, St. Joseph, Branch, Hillsdale, Lenawee, Monroe, Van Buren, Kalamazoo, Calhoun, Jackson, Washtenaw, Wayne, Allegan and Barry Counties;
This will be the first of 4 Auctions to be held for the Evans Family, 3 more Auctions will be scheduled in 2020.
With a total of over 2600 "Michigan Only" Milk Bottles, and only a few exceptions, Mr. Evans over 30 years, has collected bottles from every Dairy known to him, in every county in the State of Michigan.
Live Auction with On-Line Bidding Through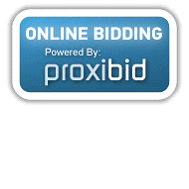 NOT RESPONSIBLE FOR ACCIDENTS OR ITEMS AFTER SOLD
PLEASE PROTECT YOUR OWN ITEMS
PAYMENTS ARE – CASH – CHECK – CREDIT CARD
BRIAN HASTY – 517-206-4585

DATE & TIME

Saturday December 7th – 9:30 A.M.

Sunday December 8th 11:00 A.M.

AUCTIONEERS

BRIAN HASTY – 517-206-4585

LOCATION

331 Butters Ave. Coldwater, Mi. 49036