AUCTION
BOB AND AMANDA TICE & FAMILY, OWNERS
FARM EQUIPMENT AUCTION
SATURDAY APRIL 14TH AT 10 A.M.
LOCATION: 260 West Chicago Rd (US-12) Coldwater, Mi.
DIRECTIONS: 3 ½ Miles West of Coldwater on US-12 to the Corner of US-12 & Batavia Rd.
TRACTOR: IH 1066, Open Station, Good Clutch & TA; Ford 5900 Diesel w/Ford Loader;
COMBINE: John Deere 7720 serial #559125
HEADS: John Deere 643 Low Tin Corn Head; John Deere 920 Grain Head; (one season on new poly & gone then by JD Service); Unverferth HT 25 Head Cart;
PLANTER: John Deere 1750 Conservation, 6 Row 30" Dry Fert, No-Till Coulters, Monitor, (Nice Planter);
TILLAGE: Krause Model 7300, 18 ½' Rock Flex Disc, (Recent New Blades & Brgs. On Front) one owner.; IH Model 720 6×18" spring reset, on Land Hitch Plow; IH Model 720 6 Btm Spring Reset Plow for Parts;
EQUIPMENT: IH Model 510 18 Hole Drill; 12' Cultipacker w/Transport; 3pt Track Scratcher; Meyer Bale Wagon (Holds 11 Round Bales) Nice; Silage Rear Dump Wagon w/8 Ton Gear; Silage Rear Dump Wagon w/10 Ton Gear; (2) J&M #250 Gravity Wagons w/Farmers Pride 8 Ton Gears; (1) J&M #250 Gravity Wagon w/Kory 8 Ton Gear; 2005 Ford F-250 4×4 Pick-up (Bad Motor).
MILKING EQUIPMENT: Mueller 1000 Gal. Bulk Tank w/Compressor & Washer; Surge Variable Speed Vacuum Pump; Alamo 5Hp vacuum pump;
BID ONLINE BEFORE OR DURING THE LIVE AUCTION!
VISIT: www.proxibid.com/hastyauction
OWNERS HAVE SOLD THE DAIRY HERD AFTER 35 PLUS YEARS OF MILKING AND ARE SELLING UNNEEDED EQUIPMENT
BOB AND AMANDA TICE & FAMILY, OWNERS
VERY FEW SMALL ITEMS – SO PLEASE BE ON TIME
NOT RESPONSIBLE FOR ACCIDENTS OR ITEMS AFTER SOLD. PLEASE WATCH OVER YOUR OWN ITEMS
PAYMENTS ARE – CASH – CHECK – CREDIT CARD
LUNCH ON GROUNDS
AUCTIONEERS: BRIAN HASTY & STEVE BURNS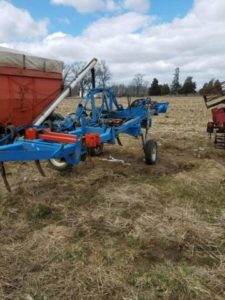 260 West Chicago Rd (US-12) Coldwater, Mi.
103 East County Line Road
Tekonsha, MI 49092
517.741.4440
NOT RESPONSIBLE FOR ACCIDENTS OR ITEMS AFTER SOLD